Nov
17
2021
Annual Christopher Comer Undergraduate Seminar- "Gut-brain nutrient sensing for feeding behavior" by Dr. Amber Alhadeff (University of Pennsylvania)
November 17, 2021
1:00 PM - 2:00 PM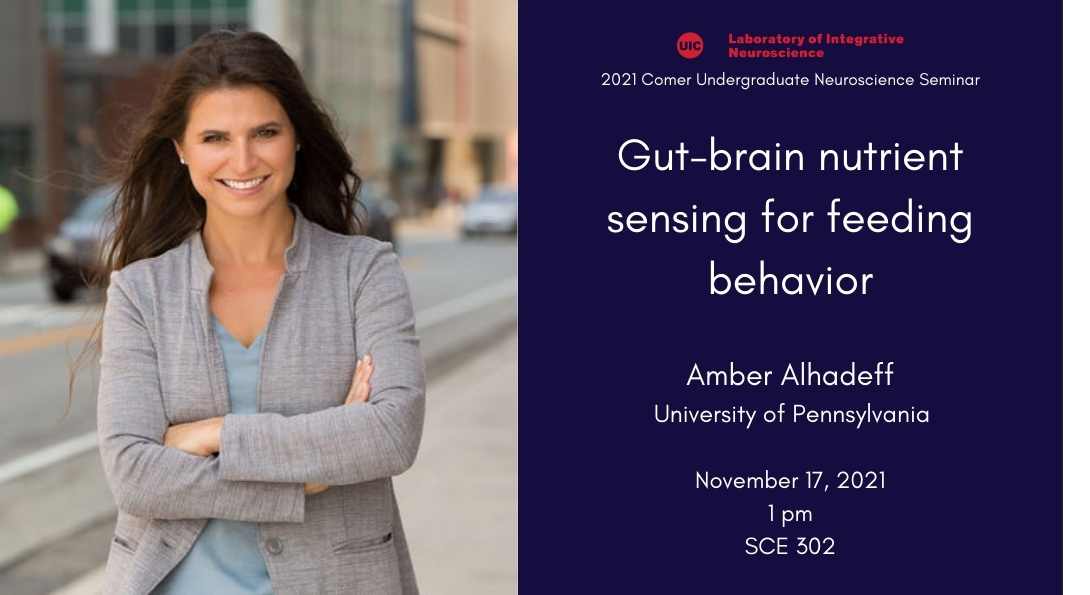 Address
Chicago, IL 60624
Join us for our annual Christopher Comer Undergraduate Seminar- Keynote speaker Dr. Amber Alhadeff will present  "Gut-brain nutrient sensing for feeding behavior"
Abstract: Food intake is tightly regulated by complex and coordinated gut-brain interactions. While we know some mechanisms through which the gut communicates with the brain, our understanding of how nutrients impact in vivo neural activity is in its infancy. In our recent work, we discovered the ability of nutrients in the gut to rapidly modulate neural activity in a small population of hunger-sensitive, hypothalamic neurons expressing agouti-related protein (AgRP). Fat, sugar, or amino acids alone are each capable of inhibiting AgRP neuron activity. How are these nutrients in the gut signaled to the brain to update nutritional status in real time? Because individual macronutrients engage specific receptors in the gut to communicate with the brain, we reasoned that macronutrients may utilize different pathways to reduce activity in AgRP neurons. Indeed, we find site-specific differences in intestinal detection of distinct macronutrients by AgRP neurons. We explore the relative roles of vagal, hepatic portal, and spinal afferent signaling in the regulation of AgRP neuron activity and food intake, and demonstrate that different gut-brain pathways can mediate effects of fat vs. sugar on hypothalamic neuron activity. Further, the inhibition of AgRP neuron activity by the post-ingestive effects of macronutrients is almost perfectly correlated with food intake reductions, suggesting that AgRP neuron activity is a strikingly accurate predictor of feeding behavior. Since AgRP neurons drive food intake, engaging these endogenous inhibitory regulators of hunger circuits may inform new and effective weight loss strategies.
In person participation is encouraged. The seminar will also be simulcast on Zoom- Contact Emily Beaufort (ebeauf2@uic.edu) for streaming information.
Date updated
Sep 23, 2021